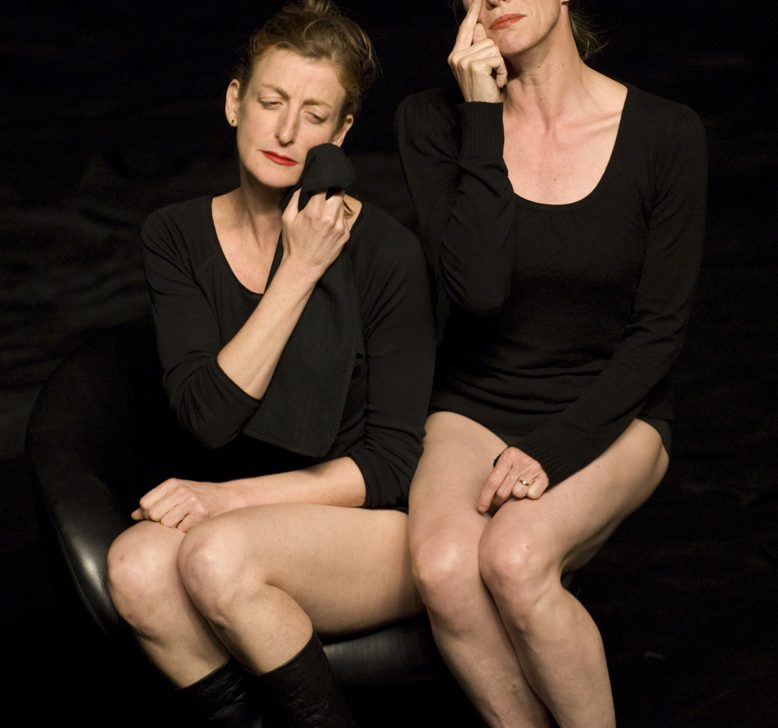 When the French choreographer Mathilde Monnier got together with the Spanish dancer La Ribot, the result was Gustavia, a universe where the spirit of Tati, Keaton, Chaplin and other great figures of burlesque hovers close by. Gustavia is its own particular world, crazy and desolate, where two false twins suffer from a bad case of split personality. With its repetitive slapstick movement, accidents, reversals, rapid changes of direction and the landing and avoiding of blows, this absurd, zany duet manages to turn all the techniques and premises of any situation to comic effect. Underlying apparently gratuitous movement and excessive or total lack of speech is the desire to discuss timeless, classic subjects like women, death, theatre, representation and the artist. This is a rare opportunity to see two seasoned and highly creative artists together on the same stage. Gustavia is an amusing and incisive piece, a breath of fresh air.
+
Interview with Mathilde Monnier and La Ribot: October 27 at 7 P.M. – Free at Agora's Cafe-Bar
The exceptional visit by these two grandes dames of dance and their dance performance is an opportunity that the Agora de la danse had to seize, offering this extraordinary event to its audience. Mathilde Monnier is a choreographer and the director of the Centre national de la danse de Pantin. La Ribot, who grew up in Spain and now makes her home in Geneva, combines contemporary dance with the performing arts and video in her work. As moderator, the dancer, researcher and UQAM Dance Department professor Manon Levac will have the women discuss their impressive careers, asking what stimulated them to constantly extend the frontiers of dance, and what led them later to join forces. The discussion will provide a front row peek at the thriving and dynamic contemporary dance scene in Europe.
In collaboration with the UQAM Dance Department.
October 29, 30, 31 at 8 p.m. + November 1 at 4 p.m.
2014
Co-produced by: Festival Montpellier danse 2008, Spectacles vivants du Centre Pompidou, Festival d'Automne in Paris, Théâtre de la Ville in Paris, Centre de Développement Chorégraphique Toulouse Midi-Pyrénées, Culturgest in Lisbon, Comédie de Genève, Mercat de les flors in Barcelona, La Ribot in Geneva, Centre chorégraphique national de Montpellier Languedoc-Roussillon.
La Ribot received support for this project from Pro Helvetia, the Swiss Foundation for Culture and the Republic, the Canton of Geneva and the City of Geneva's Department of Culture.
The Centre Chorégraphique National de Montpellier Languedoc-Roussillon, under artistic director Mathilde Monnier, is supported by the Ministry of Culture and Communication – Direction régionale des affaires culturelles Languedoc-Roussillon, the Conseil régional Languedoc-Roussillon and the Montpellier Agglomération.
This performance is presented under the auspices of FRIMAS 2014, launched by the Consulate General of France in Quebec City and the Institut français.