As of early 2017, Agora de la danse now has a new home in the Wilder Building, strategically located in the heart of Montreal's entertainment district. Recently renovated and expanded, the Wilder Building provides Agora with new performance and work spaces complete with cutting edge equipment to facilitate the promotion, presentation and ongoing support of contemporary dance works. It is also home to three other dance organizations  – les Grands Ballets Canadiens de Montréal, l'École de danse contemporaine de Montréal et Tangente – making it a unique dance facility in Quebec, a thriving arts centre that simulates encounters between choreographers, spectators, students, professors and presenters.
Built in 1918 to plans by the architect Charles R. Tetley, the Wilder Building was first owned by the Montreal furniture manufacturer and merchant H. A. Wilder. The redesign and renovation is by the architectural firm Lapointe Magne + AEdifica, which drew up the plans and supervised the impressive transformation of this LEED certified building.
Visit Us
1435 De Bleury St.
Montreal, QC  H3A 2H7
Métro Place-des-Arts
Itinerary
Rent our facilities
Martin Bisson
Technical Director in charge of infrastructures and rentals
(514) 525-7575 ext. 240
Different spaces for different needs
Favourably located next to Place des Festivals and with a unique architectural signature, the Wilder Building is an ideal site for the presentation of artistic, corporate or private events. We offer 5 versatile spaces for rent (availability varies depending on the season). Our facilities in the WILDER, can be rented for a day, an evening or for longer periods, and are readily adapted to welcome business meetings, video shoots, breakfast conferences, private receptions, press launches, cocktail receptions, wedding receptions, benefit galas, etc. They are also available for artists or companies looking for a venue to produce or present a show. Let our team help you make your event a resounding success!
Looking for a wedding planner? We recommend the service of our partner Simplement Nous – Simplicity – Sophistication – Complicity
A professional and caring team will accompany you from beginning to end for this once-in-a-lifetime moment.
Espace orange
This is our main performance venue. Multifunctional, it offers a variety of layouts and is suitable for all sorts of events. With retractable seating, the space can be configured for a cocktail buffet, wedding reception, a press launch, a lecture or a cabaret-style arrangement. Moreover, when you rent this space, you have access to the café-bar and its glass walkway (bar service extra).
1st floor
Surface area: 273 m2
Capacity: 158 to 242, seated / 400 standing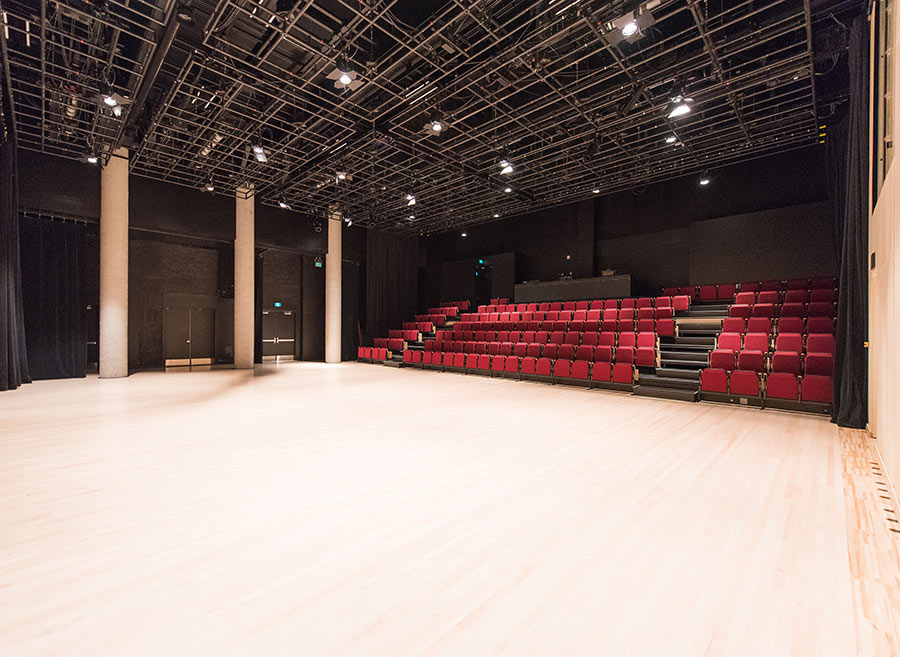 Café-Bar and Walkway
With its glass walls on either side, the walkway is a warm setting for cocktails, film shoots, networking activities and press conferences. The furnishings by the Montreal workshop LOVASI make for a sleek, very contemporary design. Adjacent to the Espace orange, this spacious, convivial site encourages exchanges and encounters.
1st floor
Surface area (with walkway) 212 m2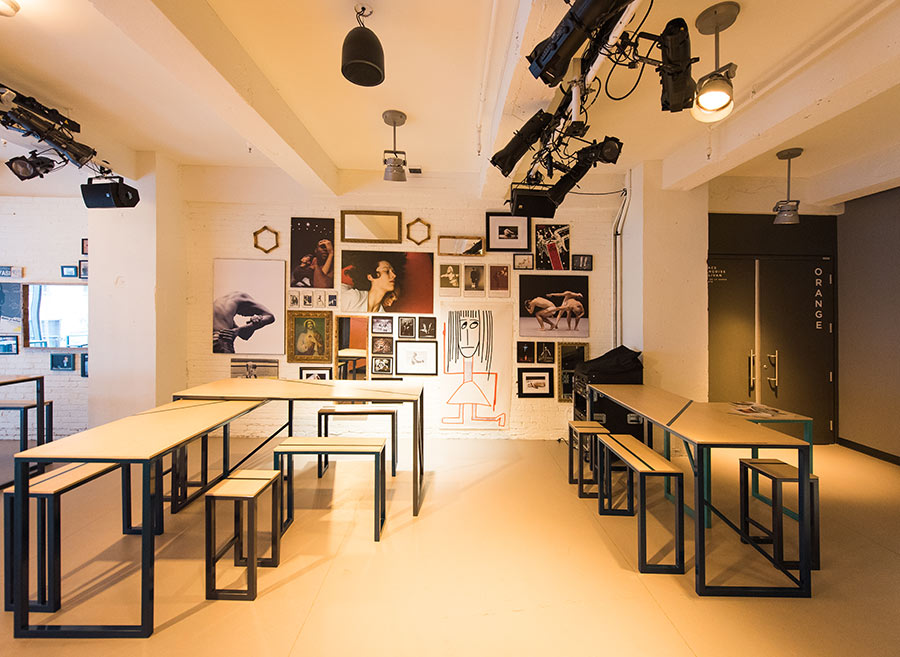 Espace bleu
A variety of possible configurations can transform this black box to suit your creative approach, giving an intimate character to your activities, whether a show, a cabaret night or a party. Perfect for film and video shoots.
Basement
Surface area: 199 m2
Capacity: 80 to 100, seated / 250 standing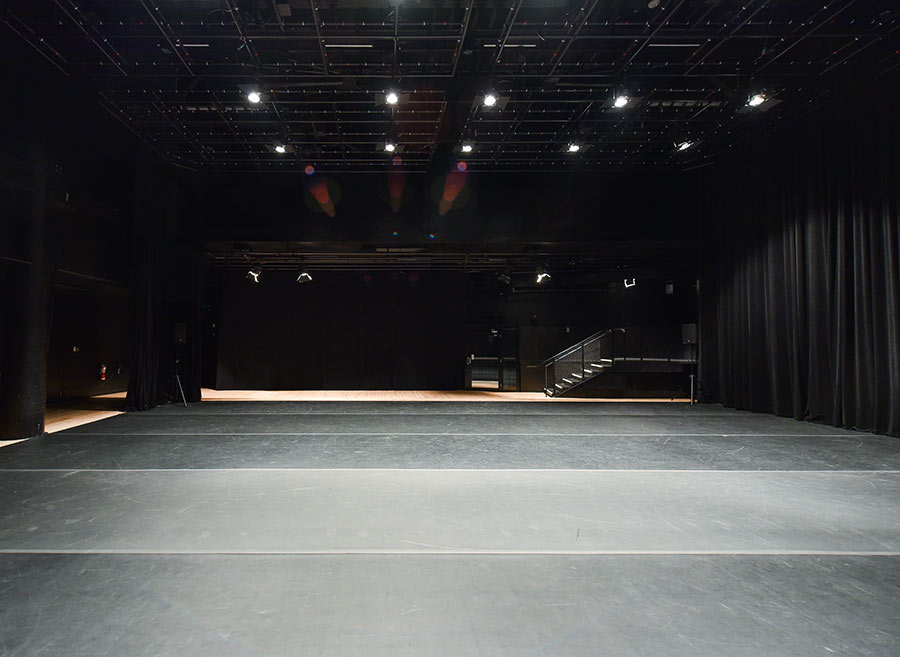 Espace blanc
With two walls of glass on either side and equipped with a mirror wall, this light-filled room is ideal for rehearsals, auditions, video shoots or private events. Just right for small groups.
4th floor
Surface area: 134 m2
Capacity: 50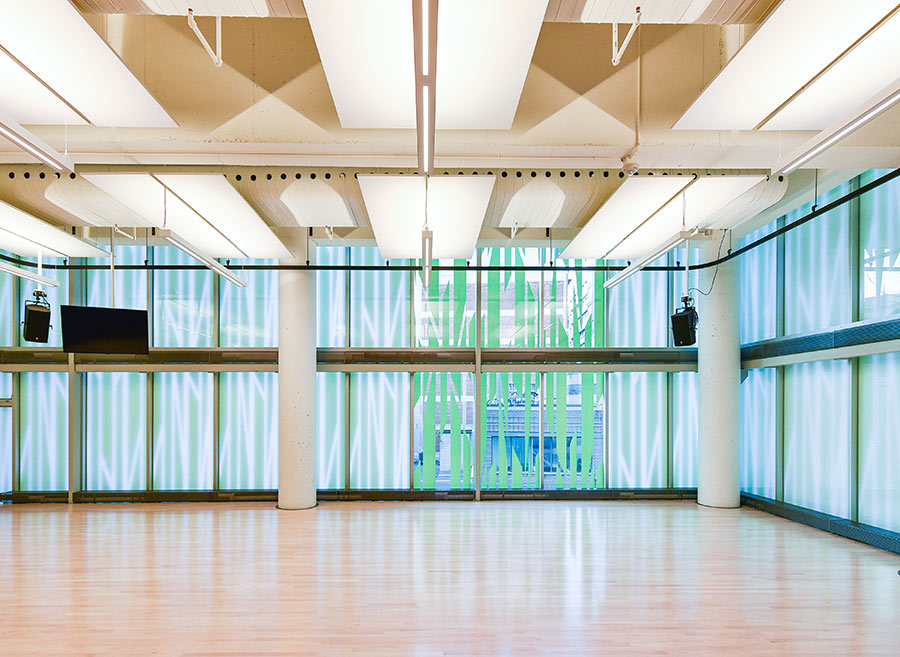 Espace vert
With its two rows of windows, this warm, inviting space stands out for the exceptional quality of its natural light. It is suitable for a wide range of activities, from promoting new products to networking events, cocktail receptions and presentations of shows.
Basement
Surface area: 170 m2
Capacity: 60 to 100, seated / 250 standing
Virtual tour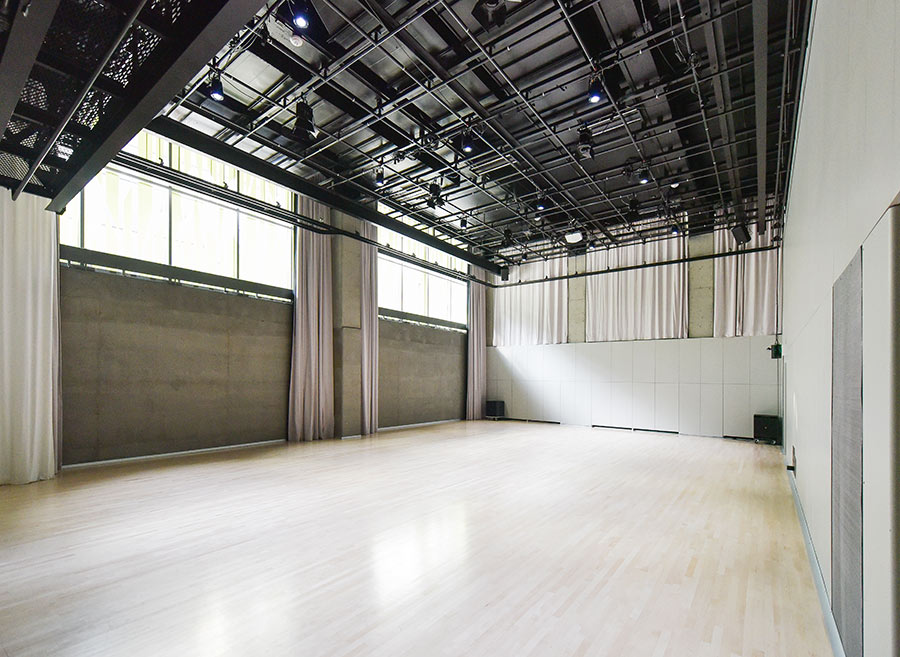 In the heart of downtown Montreal