A great street dance event in Montreal!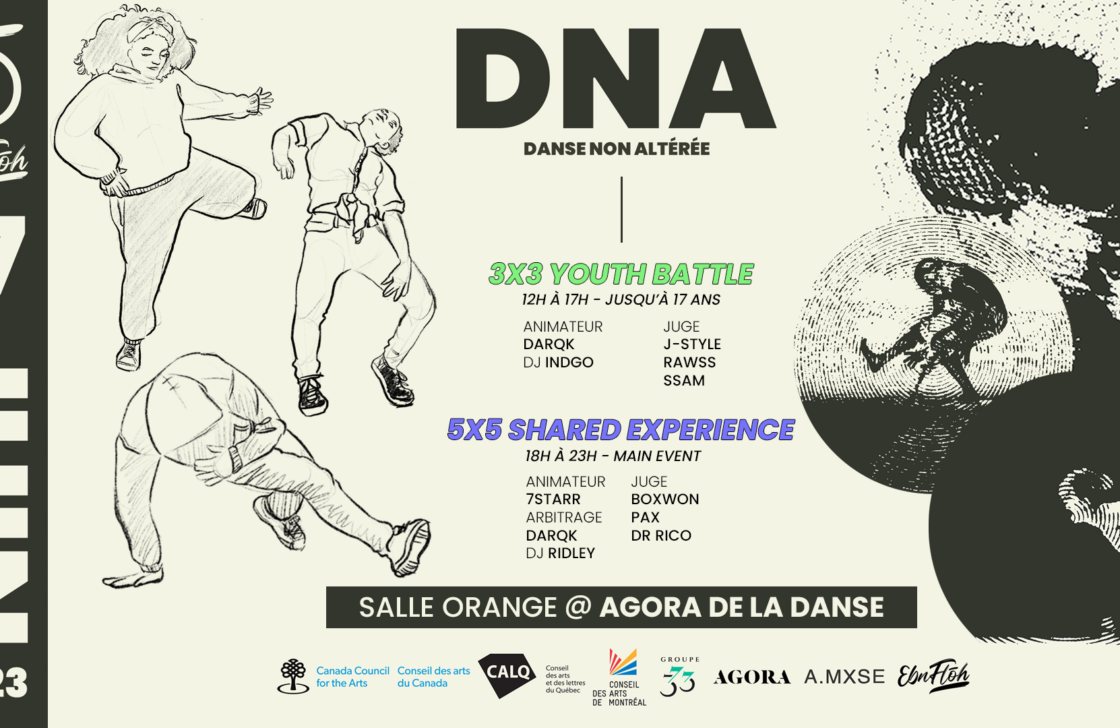 DNA – Danse Non Altérée  – shared creative experience –
In the afternoon, DNA offers a dynamic battle for youth up to 17 years old.
In the evening, halfway between battle, improvisation and creation, dancers meet in teams, inspire and challenge each other.
A pure creative experience, rich in adrenaline!
DNA Youth
12 p.m. – 5 p.m.
Dancers up to 17 years old
3×3 teams
DJ: Indgo
Host: Darqk
Judges: Rawss, JStyle, Ssam
Free admission
Limited seating
DNA Main Event
6 p.m. – 11 p.m.
Category: Adults
5×5 teams
DJ: Ridley
Host: 7Starr
Referee: Darqk
Judges: Boxwon, PAX, DrRico
Price $20
Limited seating
Ebnflōh
June 17, 2023 12 – 5 p.m. (Youth)
June 17, 2023 6 p.m. – 11 p.m. (Main Event)
DNA - Youth: Free
DNA - Main Event: $20
Presentation and production: Ebnflōh
Co-presentation: Agora de la danse
In collaboration with Outfit MOB