Supported by a dense soundscape, Pep Ramis transports the audience into a new fiction as he casts his gaze on the tragicomedy of the human condition.
Now in his fifties, Pep Ramis explores the formidable machine that is the body with a poetic solo that questions the sense of the divine and the profane, spirituality and ignorance, the beautiful and the banal. The dancer's transformations occur on a white stage stripped bare, where precise movement and dialogue form the basic structure of a constantly shifting theatrical journey that is quite moving.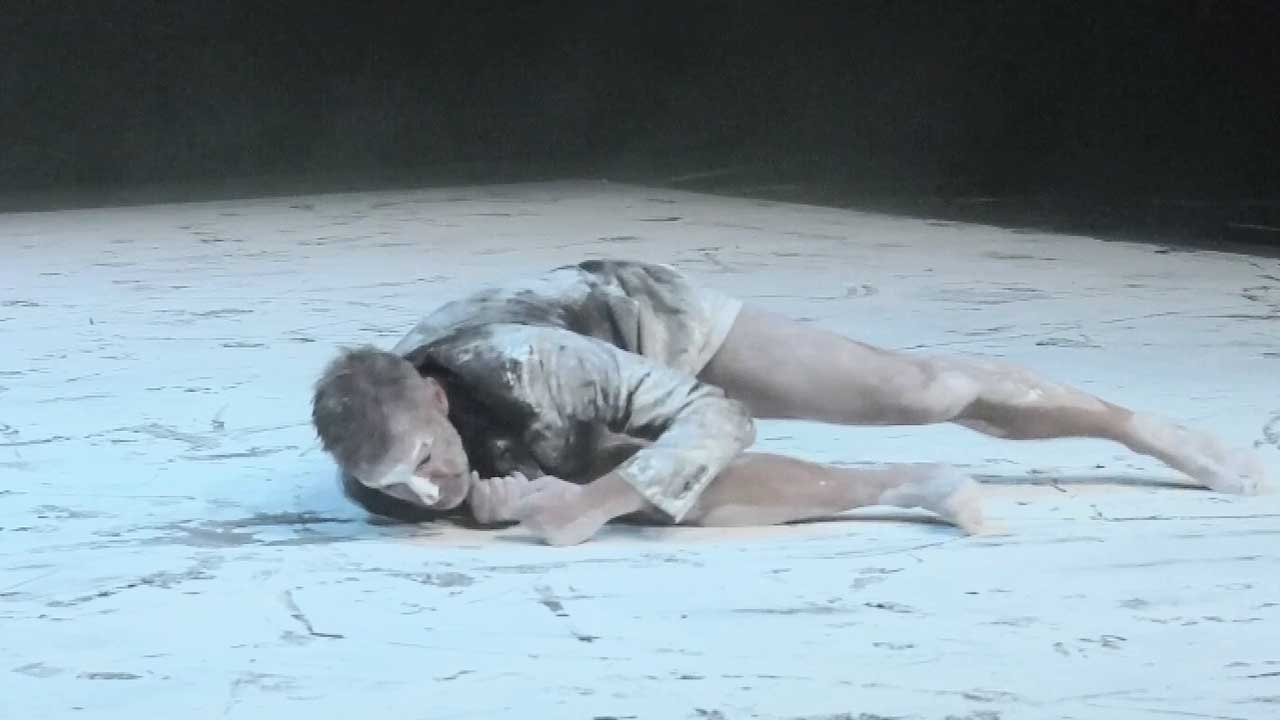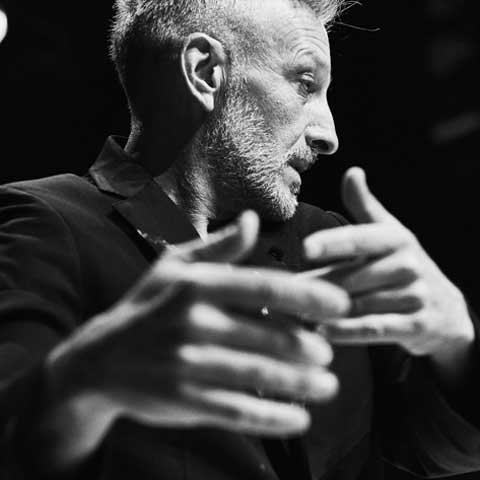 Pep Ramis was born in Majorca into a family where music and painting were a strong presence. He has studied the cello, voice and puppetry, and drawing has been a constant interest since childhood. Starting in 1985 he focused on theatre as a confluence of all his previous experiences, with the body as the reference axis. After working in 1986 with La Dux (a duo consisting of Maria Antònia Oliver and María Muñoz), in 1987 he took part in the Adriana Borriello piece Scirocco in Italy. In 1989 he worked with María Muñoz and the Mal Pelo group building stage sets and installation spaces. He is also a director, actor, dancer and co-director of the L'animal a l'esquena arts centre in Celrà, Catalonia.
Company Mal Pelo
Direction and performance Pep Ramis
Artistic Codirection Maria Muñoz
Assistant director Jordi Casanovas
Scenography Pep Ramis, Maria Muñoz
Artistic Collaborators Blaï Mateu, Leo Castro, Camille Decourtye (Barό d'Evel Cirk), Piero Steiner
Texts Erri de Luca, Mal Pelo
Lighting August Viladomat (Punt de Fuga)
Lighting and Technical  coordination Guillem Gelabert
Sound technician Andreu Bramon
Video Xavier Pérez
Costumes CarmepuigdevalliplantéS
Soundscape Fanny Thollot with additional music by Los Sixtar, Peteris Vasks
Stage set Adrià Miserachs, Pep Aymerich
November 21 > 23 – 7 p.m.
November 24, 2018 – 4 p.m.
60 minutes
$22 > $35
Co-production Agora de la danse, Festival de Tardor de Catalunya Temporada Alta 2017, Mal Pelo, Théâtre de la Ville de Paris
In collaboration with L'animal a l'esquena – Centre de Création, Mercat de les Flors de Barcelona, Théâtre de l'Archipel de Perpignan

This presentation was made possible thanks to the support of l'Institut Ramon Llull.
Special mention to Embassy of Spain (cultural office) as Cultural Partner for this show

All the elements that contribute to the strength of Mal Pelo are present: staging design, descriptive power, vocal work, concept and treatment of sound and lighting. They all intersect and nourish a piece that reflects the maturity and depth of these two co-directors.
Sceneweb.fr, review of Le cinquième hiver, November, 2015