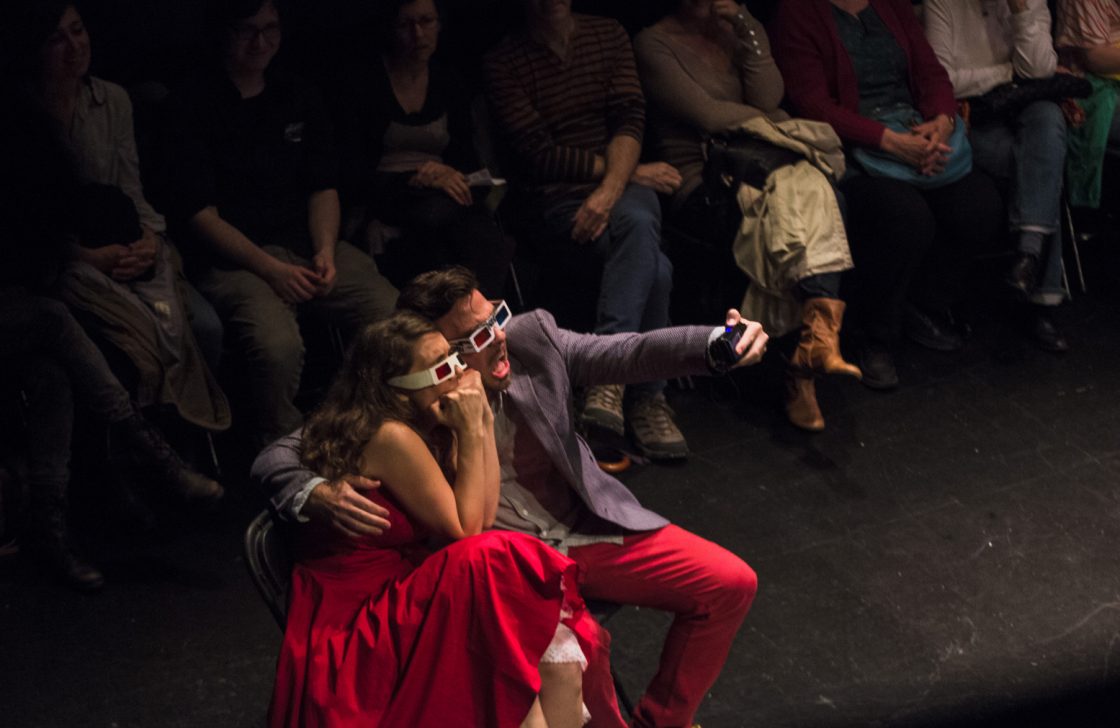 The first time that Marie Béland met Olivier Choinière, she brought him some cookies, and he recorded their conversation. When theatre encounters dance, words come alive in a conversation between text and movement. A man and a woman engage in dialogue. Initially presented during the 2013 edition of OFFTA, MIXOFF is a confrontation between two artistic worlds – in conflict yet also in collusion – that plays with the clichés of the couple in all its variants and forms.
This encounter between Marie Béland and Olivier Choinière constitutes the first phase of a new work by La 2e Porte à Gauche, 2050 Mansfield – Rendez-vous à l'hôtel, which combines four pairs of choreographers and writers/directors exploring the idea of the couple, the other three being Catherine Gaudet and Jérémie Niel, Catherine Vidal and Frédérick Gravel, Virginie Brunelle and Olivier Kemeid. The piece will be presented in winter 2014 by Agora de la danse.

Duration: 45 minutes
Marie Béland
Marie Béland completed a Bachelor's Degree in dance at UQAM, and founded her own company, maribé – sors de ce corps in 2005. She is also co-founder of the dance company La 2e Porte à Gauche. In ten years, Marie Béland has created a series of shows where indiscipline reigns with precision and verve such as, Dieu ne t'a pas créé juste pour danser, RAYON X : a true decoy story, BEHIND : une danse dont vous êtes le héros. She is renowned for the sweet madness of her imagination and her ironic, eccentric approach that plunges the audience into skillfully orchestrated games of perception. Her latest creation , Bleu-Vert-Rouge was presented at Agora de la danse in January.
Olivier Choinière
Olivier Choinière graduated from The National Theatre School of Canada (playwriting) in 1996. He participated in more than thirty theater productions mainly as a writer, but also as a director and designer. In 2000, he founded L'ACTIVITÉ and started offering ambulatory pieces where the viewer is guided using a walkman. Chante avec moi (2010) was presented at Espace Libre, at the National Arts Centre in Ottawa, and during Festival TransAmériques (2013). His last success Mummy will be presented at Les Écuries.
October 22, 23, 24 at 6.30 p.m.
2013
Co-presented by Agora de la danse and OFFTA
Coproduced by OFFTA and La 2e Porte à Gauche in collaboration with Agora de la danse.
Created as part of OFFTA.