En encounter between dance and paper, where luminous forms become new territories, haunting sculptures that breathe.
Cocons somatiques is imbued with a sub-aquatic metaphor, with bodies cohabiting the stage space with cocoons, strange organic sculptures that bewitch and transform them, aided by visual and poetic intrigues created by the visual artist Manon De Pauw, and brought to life in danced metamorphoses by Pierre-Marc Ouellette. From this transformation emerge silhouettes and identities, sired by strangeness and mystery.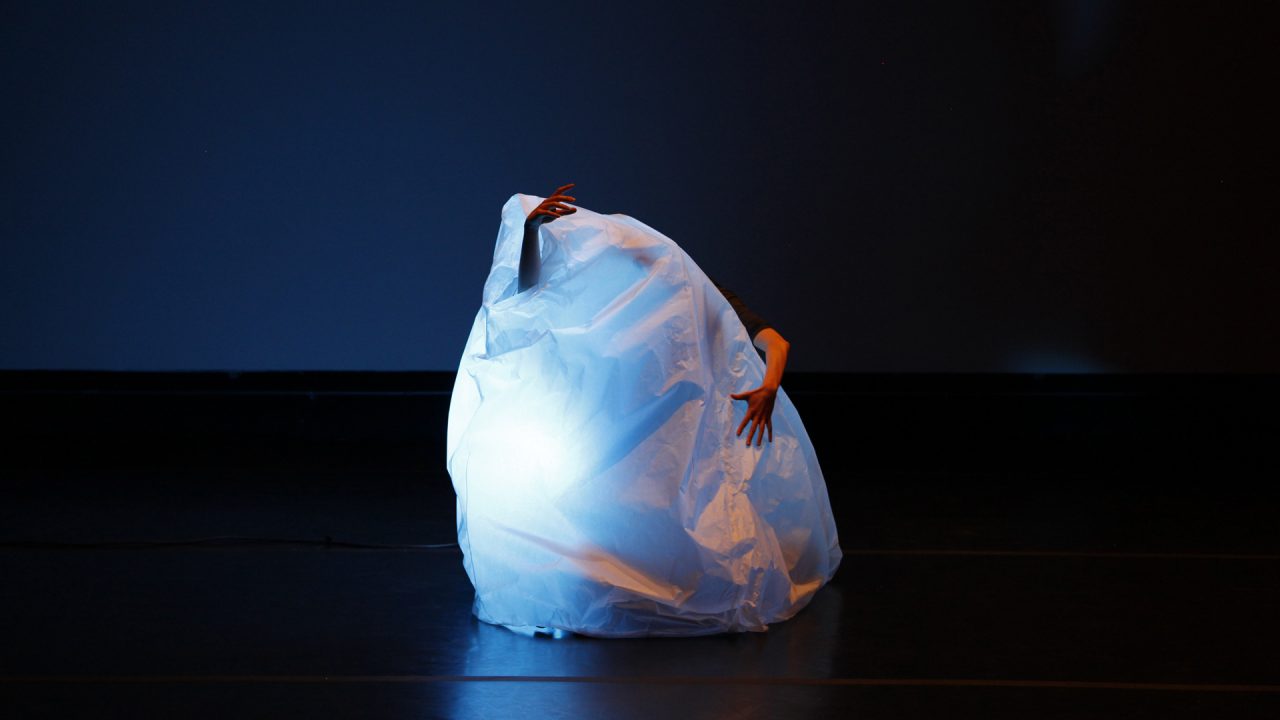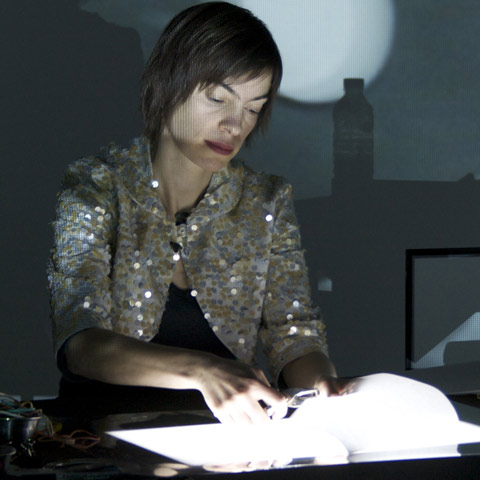 Manon de Pauw / © Patrick Mailloux
Manon De Pauw's artistic career has involved many forms, from video and installations to public art, performance art and photography. Over the past fifteen years her work has been presented at MNBAQ, the Centro Nacional de las artes in Mexico City, Théâtre La Chapelle, the Galerie de l'UQAM, the Musée Régional de Rimouski and at the Canadian Cultural Centre in Paris. In 2010 she was guest curator at MAC, and in 2011 the Quebec finalist for the Sobey Art Award. In 2012 she received from the Canada Council for the Arts the Victor Martyn Lynch-Staunton Award. Manon De Pauw has collaborated with the curator Louise Déry, with the choreographers Danièle Desnoyers and Pierre-Marc Ouellette, and with the musicians and composers André Pappathomas and Joane Hétu. In 2014 she presented during the Festival Temps d'Images at Usine C her interdisciplinary performance La matière ordinaire. She is a professor at the École des arts visuels et médiatiques at UQAM and is represented by Galerie Divison.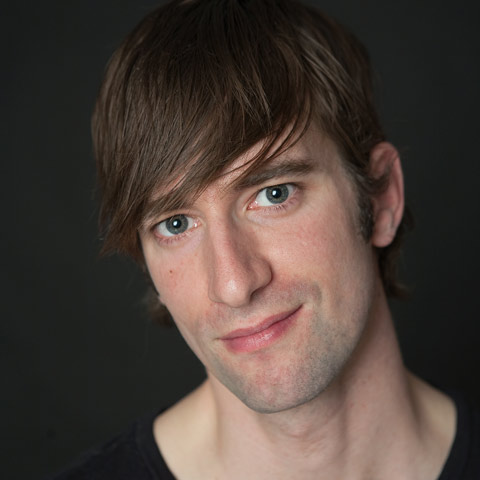 Pierre-Marc Ouellette / © Veronique Bergon
Pierre-Marc Ouellette a complété sa formation aux Ateliers de danse moderne de Montréal en 2005. Depuis 2007, il travaille comme interprète pour la compagnie Le Carré des Lombes de la chorégraphe Danièle Desnoyers. Avec cette compagnie, il a dansé dans Play It again ! Et collaboré à la création de Là où je vis, Hozhro, Dévorer le ciel, Sous la peau, la nuit, Paradoxe Mélodie et Anatomie d'un souffle. Pierre-Marc a également participé à plusieurs projets initiés par différents chorégraphes : Paul-André Fortier, Harold Rhéaume, Erin Flynn et Deborah Dunn. Sa première création, le show off, a été présentée en 2010 à l'espace Tangente, et en janvier 2012, la création les Angèles — création collective — a été présentée au théâtre Lachapelle. Pierre-Marc enseigne le répertoire de la compagnie Le Carré des Lombes à l'UQAM, L'EDCMTL, et dans différents stages pour danseurs professionnels (Springboard, Circuit-Est). Il poursuit des études en histoire de l'art et en est à sa deuxième collaboration avec l'artiste visuelle Manon De Pauw.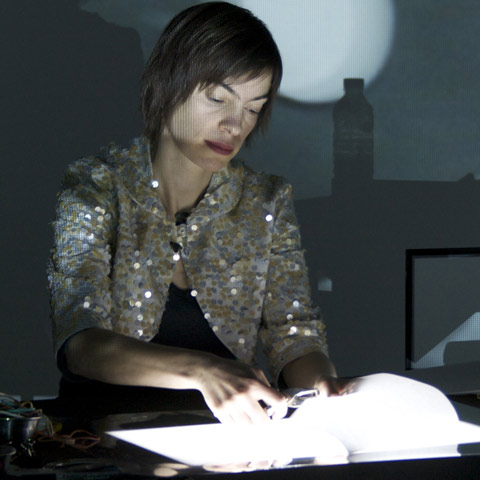 Manon De Pauw
@ Patrick Mailloux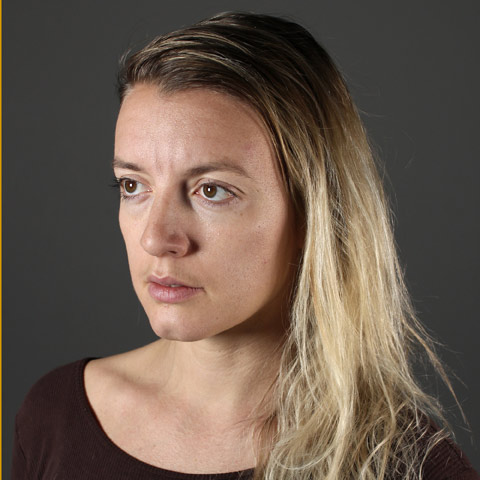 Gabrielle Desgagnés
© Manon De Pauw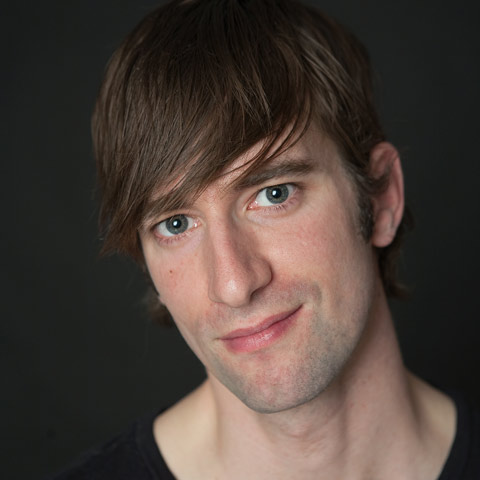 Pierre-Marc Ouellette
© Véronique Bergon
Choreography Pierre-Marc Ouellette
Visual artist Manon De Pauw
Performers Manon De Pauw, Gabrielle Desgagnés, Pierre-Marc Ouellette
Rehearsal director Karina Champoux
Set design Manon De Pauw
Lighting Nancy Bussières
Sound and sound processing Patrice Coulombe
Technological development Patrice Coulombe
Intern Laurence Dufour
Technical assistant Sara A. Tremblay
Music Alexander MacSween
Manon De Pauw + Pierre-Marc Ouellette
April 26 > 28 - 2017 - 7 p.m.
April 29 - 2017 - 4 p.m.
50 minutes
$22 ­­> $35
Creative residencies at Agora de la danse, Circuit-Est centre chorégraphique, LAB2M (Les Deux Mondes Compagnie de théâtre), Recto-Verso.
Special mention: Mentorship program, Danièle Desnoyers / Circuit-Est centre chorégraphique
The fruit of this encounter is quite simply fascinating, making for fifty hypnotic, humorous and sometimes even mythical minutes.
Review of La matière ordinaire, Christian Saint-Pierre, 2014